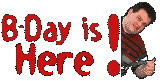 It's B-Day!!!
Wednesday, June 11, 1997 is Brian Simmons last day at ComputerLand so Brad and Eric wanted to create something for him as a going-away present.
This page is the result of their efforts...
First we have The Little Rascals:

Next is the Laurel and Hardy Pics:

If you know Brian, this one will speak for itself...

A couple of products Brian endorsed:

Now for some other assorted pics:

?????...Ask Brian about this one.

Brian treating his last customer right!

The producers of this page wish to thank John Wilson for contributing his ideas.


And of course we wish Brian the best of luck in his new job!